Olorien
Olorien is a free (no cost) and open-source (GPL) software package for scientific journal creation and management. It currently runs on any *nix with ease, and will soon be expanded to other platforms. A feature-list is below.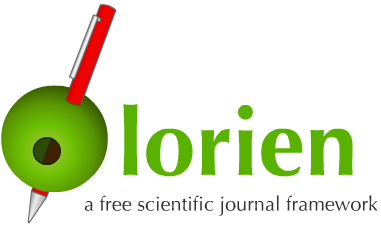 Features
Standard. Follows the standard publication cycle, but automates repetitive tasks, making publication easier on the authors and editors.
Free. Free to setup and use, and free for the public to read all articles of any Olorien-based journal.
Automated article submission and reformatting. Accepts HTML, text, and MS Word documents, and reformats them into standardized HTML, and immediately creates a PDF of the article.
Online Peer-review. Olorien allows reviewers to read, comment, and submit a review all online. Reviewers can also download a PDF if offline reading is more convenient.
Copyediting. Since most articles will require at least spacing tweaks before going to press, Olorien allows editors to edit the text for any submitted article
Secure access. Olorien requires a login for submission and editing tasks, and allows the editor-in-chief to adjust users' permissions as needed.
Automated notification via email.
Volume Management. Volumes can be placed into one of five states, from "private, in progress" to "archived". The range of options allows a journal to more quickly disseminate information without waiting for a formal volume release.
Web-specific markup. As expected for an online journal, Olorien supports HTML links, linked footnotes, and embedded high resolution images.
Integrated mailing list. This makes it easy to send notifications of new volumes, or journal news to all users, or a public mailing list.
Multilingual. Olorien is built on UTF-8, which means it will support almost any language used on earth.
Uses
Scientific Peer-reviewed Journal, in developed or developing institutions
Community journal
Collaboration and public writing tool for NGOs
Frequently Asked Questions
Why is the logo an olive with a pen through it?
Because "Olorien" means "Olive", and we liked the name. The pen is hopefully self-explanatory.