ebDB
The ebDB (International
E
thno
b
otany
D
ata
b
ase) is an open database and web application for researchers to record, organize, archive, and share ethnobotanical data. It is free to use, and accounts are open to anyone. Researchers can choose whether or not to make their data accessible, so not all the data in the ebDB may be visible.
The ebDB was built by Quantum Imagery as a
pro bono
job, and as a result, the database itself is and will remain free for public use. For security reasons, it is not open source. A paper describing the database is currently in revision.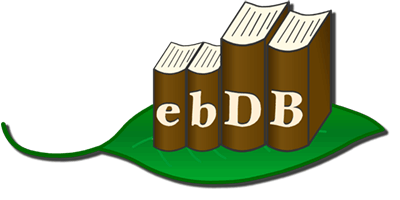 Features
Completely multi-lingual. Input data in any language, and then translate it into any number of other languages.
Datasets. Data access is protected by groupings called datasets. The owner of a dataset (typically the researcher) has complete control over who the data is shared with, and what permissions they have.
Broad ethnographic data. The ebDB has 26 fields varying from location to preparation method, with everything between.
Pictures. Researchers can attach an arbitrary number of high-resolution, full-color pictures to a particular sample.
Glossary. As is to be expected, translations for words can vary (think of all the meanings for "Cold"). To this end the database has an integrated glossary, so users can distinguish between different meanings, and make accurate translations.
Strong multilingual structure. It's worth mentioning that the multi-lingual and multiple-meaning (glossary) abilities of the ebDB are not the result of complex code, but from the database structure itself. This means that the database can scale to accomodate a very large number of entries without significant performance penalty.
Generalized Location support. The ebDB allows users to specify any and all of the following for a location: continent, country, region, city, location (address), GPS coordinates, and a note
Backup. You can of course get your data back out.
Field sheets and Pre-press manuscripts. The ebDB can create field sheets to take when filling holes in existing data, and can generate a first draft manuscript for any dataset, to ease the process of publication.
Potential Users
Ethnobotanical researchers, who need a place to store their data.
Cultural Anthropologists looking to compare uses and methods across cultures with a standardized format.
Traditional users of plants, looking to preserve their knowledge.
Frequently Asked Questions
Please see the ebDB site for a full FAQ.